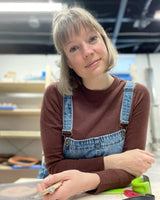 From my home studio to your home table.
With the sound of toddler feet upstairs, and a giant dog curled up at my feet, I thoughtfully craft functional art.
My work is intended to be both beautiful and useful. I hope these pieces elevate daily rituals, and provide comfort in quiet moments.
Thank you for taking the time to stop by!
Cheers,
Alyssa WK
Artist, maker, partner, mother, dog walker, donut enthusiast.